Around the world, the occasional child is born that is not like the rest. A very, very select and rare few, roughly estimated to be one child out of five million born, are given very specialised skills which change the norm of the world. These children, who grow up to become people, seem to be weaknesses in the fabric of reality; and due to this, they are able to control specific aspects of it to their wants and needs, granting them 'supernatural powers.' Flight, telekinesis and enhanced strength are among some of the more commonly known abilities gifted to the rare empowered ones, but they certainly aren't the only ones. Nonetheless, such powers and control comes at a great price, as many who have new-found abilities lack proper control of this ability, and have been known to loose control altogether, with dire consequences. Due to this, the world of the norm quite strongly and violently shuns them, as can be found throughout history with the many witch hunting procedures.
They are not entirely alone, however, as there are the scarce few who sympathise for the empowered few, but are usually shunned like they are for this. For this purpose, a small branch of America's Federal Bureau of Investigation (FBI) has been formed, protected by the global powers of the United Nations, with a simple mission; To locate any and all beings with 'superpowers,' and give them the choice of being relocated to a safer location. Many take the option, as the alternative may be more maddening. Collecting their belongings and saying goodbye to any they are friends with or related to, they are flown to the small Canadian town of Coronation in Alberta.
The forest not too far from the town is subject to a lot of rumours, with many of the towns residents describing a 'ghost mansion' hidden somewhere inside, where the very laws of physics are defied by simple garden ornaments. While these rumours are almost entirely ignored, the branch of the FBI and those with powers know better than to pass them off as false. By walking between two marked trees, one will find them self on a previously non-existent path, which leads deep into the forest and eventually to a huge clearing, in the middle of which resides the mansion. Here, and only here are the Empowered safe, and welcomed as normal folk; for here, there are only Empowered, and none are without powers.
Out-Of Character Info:

This topic is essentially about a large group of teenagers who have superpowers living together in a huge mansion, which is the only place they are safe from prejudice and being shunned by those around them. Your character can have practically any super power you want, but only one and it would be recommended to have an equal weakness. (E.g. The ability to slow or speed up time might be accepted, should you give the person the weakness of constantly loosing track of time, for example.)
Your character can discover the mansion however you please, either by luckily stumbling upon it or being taken there by the FBI, but remember that no normal human can find the mansion by passing through the trees.
Character Application Form:

Name: Full name here.

Age: Highly recommended to keep the age before 30, 14-24 is most recommended. (Literal age followed by appearance age if immortal/vampire/etc.)

Gender: Male or Female. (Most common gender if shape shifter)

Ability: Your choice. A description of their abilities is needed, such as limits, side-effects, uses, ect.

Appearance: Description or picture. (If your going to describe them, please write a minimum of 50 words, and be as descriptive as possible.)

Personality: What sort of person your character is. (Referring to how they would act in scenarios is advised.)

Other Information (Optional): Anything important about their past you want to say? Possible crushes? Strange habits? Anything.
Accepted Characters:
Yzxstuhl:

Name: Shiosai "Yzxstuhl" Ike (Pronounced Yee-Zick-Stool)

Age: 20

Gender: Male

Ability: Yzxstuhl is heavily and strongly linked to knowledge, and is able to fluently read, write and speak in any language from the very moment it is first used outside of the human mind. He also has the ability to convert the mental knowledge within a person into a physical, written book, however he is unable to do so unless the person he is attempting to 'harvest' gives him their consent. Additionally, he is vaguely aware of the events beyond the mansion, and often writes about events he senses might be transpiring or have transpired in the outer world, and coupled with his photographic memory he is, in a manner, a human book. However, the price for such abilities is dire, as he has been cursed with an insatiable craving for knowledge, which he constantly attempts to satisfy by reading countless millions upon millions of books, both fiction and not, along with other strange habits he has developed. Furthermore, due to his ability to vaguely sense events that have occurred or are occurring in the outside world, he also loosely experiences many, many of the negatives that humans conduct, and his mind has cracked due to it.

Appearance: Yzxstuhl is approximately six feet and four inches tall, and sports spiky, onyx black hair that ranges roughly between two to six centimetres in length. His usual attire consists of black jeans, a white t-shirt and a black trench-coat that he always leaves unbuttoned on the front, which usually has various assorted pages of information pinned to the back of it, some of which is pinned on by students who wish to inform him on an event or a random fact he may not be aware of. The most notable feature of him, however, are his eyes, which have vividly orange irises, black sclera's (Sclera = The white part of your eyes) and snow-white irises.

Personality: Yzxstuhl is a very strange and quirky person, having been shaped into the person he is now mainly by the side-effects of his ability. It is fairly rare to see him outside of his library at the mansion, as he spends a vast majority of his time in there reading anything he can find that he hasn't read yet, 'harvesting' knowledge from anyone he is able to, and sorting the books into the correct 'Chapter' of the library they are supposed to be in. Due to this, he often has to be strongly convinced to leave the library to eat, as Yzxstuhl forbids any form of food and drink within the library. For unknown reasons, he does not respond to his name of Shiosai, and only responds to 'Yzxstuhl'. He is often quite vague and detached in his speech, and also has a strong understanding on the looseness of ethereal concepts, which can often result in him being difficult to understand. Once his method of thought is properly understood, however, he can be found to be an exceptionally good source of information, and some members of the mansion often describe him as more valuable than the library he resides in. He also has very strange obsessions and habits, some of which are understandable, but most being just plain strange. Due to his devotion to his library, he practically always can be found sleeping in the exact centre of it, in a moderately-sized reading area, usually with stacks of books around him. His powers also seem to be enhanced slightly within his library, as he often seems to be able to sense the intentions of those who enter; not only does this prevent students from entering the forbidden part of the library, known only as the "Conclusion", (See Below) but it also results in him being able to identify when a new inhabitant of the mansion has entered, which usually results in him rushing towards them and asking if they brought any books with them. It is also debated amongst members of the mansion on weather or not he has cameras hidden in every part of the mansion, as he is often accurately aware of events whilst they are occurring.

Other Information: Whilst his younger brother Jack Ike is the 'headmaster' of the mansion, Yzxstuhl is actually the original architect and founder of the mansion. The entire colossal library is agreed to belong to him, mainly due to the fact that he maintains and cares for it in such a manner as if he owns it. He has divided the library into ten 'Chapters' as he refers to them, each of which house a different genre. The entirety of the library is open for use at all times, save for the closed-off part he refers to as the 'Conclusion', which everyone within the mansion is banned from entering without his permission, which has never been said to have been given. What genre is kept within the Conclusion is unknown, and most likely will remain that way for a very long time. Also, due to him being more or less constantly exposed to the evils of the human race, Jack Ike has often requested members of the mansion not enter the library at night to execute a prank on Yzxstuhl, as it will do little more than awaken him from the sleep he rarely gets.
Jack Ike:

Name: Jack 'Crow' Ike

Age: 17

Gender: Male

Ability: Spatial Manipulation. He is able to produce effects similar to a wormhole, but in a different manner; A wormhole is an alternate, shorter pathway between two locations in three dimensional space, while Jack directly alters the space between two locations by 'pinching' it in a certain manner. With this ability, he can quite easily traverse multiple kilometres by shrinking them into mere centimetres, whilst retaining the ability to do the opposite. It can occasionally be difficult to tell if a location has been shrunk or not, as the location does not visually change in size. When one travels across manipulated space, however, the presence of the alteration is quite obvious to both the traveller and another person who is watching, as the traveller will visually see the landscape around them blur by as they take what, to them, is little more than a single step; to someone observing this, however, the traveller visibly distorts and elongates in the direction of travel, briefly giving them a 'spaghettified' appearance. This also works when space is being extended instead of shrunk.
Due to his powers, Jack often has difficulty understanding measurements of length, such as the metre or kilometre, as they all seem exactly the same to him since he can simply change the length, width or height of an object or distance. Additionally, his power only lasts on a location for as long as he is focusing on it; as soon as he forgets about a location he has shrunk, it returns to it's usual size. Furthermore, for unknown reasons his ability has given him 'Ornisthropy', whereas for a complete week every three months he transforms into an anthropomorphic crow-like form, where his skin is completely covered in black feathers. He always remains locked in his room for the entire duration, and does not allow anyone into his room until he has changed back.

Appearance: Jack Ike looks very similar to his elder brother, save for the strange eyes, which have normal blue-coloured irises for Jack. He has onyx black hair, which he usually combs and gels back every morning. He is considerably shorter than Yzxstuhl, only being about five feet and eight inches tall. During the warmer, summer days his attire usually consists of thongs, a singlet, and some shorts with strange tropical designs on them. During the colder days, however, usually starting once the temperature gets below fifteen degrees, his attire consists of multiple layers of large fur coats, beanies, long jeans, socks, woolen gloves, scarves, and a pair of combat boots. His appearance while under the effects of Ornisthropy is unknown.

Personality: Jack Ike is a very relaxed, happy-go-lucky person who is usually very warm and welcoming, and he is often the first person to be met in the mansion. He usually doesn't take matters of importance very seriously, passing them off as unrequited worries most of the time. When he deems something of significant importance, however, he can become extremely strict and demanding, to the point where he could be said to be excessively strict. It is quite often for him to be found in the entertainment room, usually playing some form of videogame such as Minecraft or even Elder Scrolls V: Skyrim.

Other Information: Jack Ike is the 'headmaster' of the mansion, as the FBI considers and refers to the mansion as a 'school.' He doesn't really care if he's referred to as headmaster or not, but still wishes that he be taken as seriously as one. He is also well-known to be the younger brother of Yzxstuhl, who is the original founder of the mansion. He is quite protective of his brother, and often severely punishes those who purposely attempt to harm his brother. He has also requested that the library be only entered at night by those who are going in there solely to read and learn, as he is aware that his brother has difficulty getting to sleep.
Mansion Blueprints:
White lines mark out walls.
Red lines mark out doors.
Yzxstuhl's Library:

Note: The ceiling of the library is two floors high. Bookcases extend from the floor to ceiling, with long slide-able ladders allowing access to higher shelves.
First Floor:
Ground Floor:
Basment:

CPT Revenge Unit #27

Old Timer




Join date

: 2013-01-21


Posts

: 381


Age

: 21


Location

: Mostly Omnipresent, more Omnipresent at dawn and dusk.



This is a definite might-do.

I just have to decide which character i want to use.

_________________
94% of Girls would cry if justin Bieber were about to jump off a skyscraper. 6% would push him off, the grab popcorn and a camera and shout, "DO A FLIP!!!" Put this in your siggie if you are part of that 6%.
When life gives you lemons, make lemonade, but unless life also gives you sugar, your lemonade is going to suck. So, if life gives you lemons, throw them at Justin Bieber and or One Direction.

Click this for an awesome party song!!! =D 


Brute

Old Timer




Join date

: 2013-05-03


Posts

: 343


Age

: 19


Location

: Trying to get this site back up and rollin'!!!

Personal Stats
Forum Activity: Active
RP Activity: Active
RP- Experience : ★★★★★


Name: Kendrick Marshall (Kenny)
Age: 16
Gender: Male
Ability: Kenny has a thing with anything to do with electrical appliances or mechanical objects. He literally can touch something like a broken iPhone, "see" what the problem is, envision fixing it, and problem is fixed. However, he can only fix electrical appliances like this; to fix, for example, a broken lock, he'd have to get down on his hands and knees and do the dirty work. Additionally, he uses quite a bit of energy using his ability, so it's no wonder he prefers to just take the thing apart.
Appearance: Here's a selfie he took of himself when he was thirteen: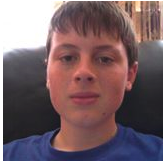 He's around six feet tall, and always wears light brown hiking boots, no matter where he goes. He likes wearing his gray Nike hooded sweatshirt or his orange fleece in cold weather, while, in warm weather, a T-shirt of any boyish colour is just fine. Kenny likes carrying around an orange Osprey hiking backpack, filled with his stuff. When happy, he walks with a slight skip in his step, all the while looking quite relaxed. When not very happy, he walks along stiffly and ramrod-straight. Kenny is strong, but not overly muscled. His voice is base, though not extremely deep. He has a quirky smile, when he does smile.
Personality: Kenny is laid-back much of the time. He likes making other people laugh, but only if another person starts joking around first. Otherwise, he is quiet, and doesn't start much. He is very diligent in getting things done and over with (so he can start playing computer games on his laptop). He doesn't really know how to deal with situations he finds embarrassing, and often, as his ears turn pink and he tries to stutter out an explanation, he only makes the situation funny-looking, and this is one of those things that make him angry. When he is angry, he raises the sound volume of his voice, and starts punching walls and throwing things to make his point. However, he does not usually stay angry for long.
Other Information (Optional): He had a friend named Dylan, nicknamed Adidas (because he liked wearing Adidas caps), who died in a car accident. Kenny is quite hesitant about making friends now, and gets angry when his old friend is mentioned in any way.
Last edited by Brute on Thu May 15, 2014 9:17 am; edited 3 times in total (Reason for editing : picture not showing up Dx)

_________________
94% of Girls would cry if justin Bieber were about to jump off a skyscraper. 6% would push him off, the grab popcorn and a camera and shout, "DO A FLIP!!!" Put this in your siggie if you are part of that 6%.
When life gives you lemons, make lemonade, but unless life also gives you sugar, your lemonade is going to suck. So, if life gives you lemons, throw them at Justin Bieber and or One Direction.

Click this for an awesome party song!!! =D 


Brute

Old Timer




Join date

: 2013-05-03


Posts

: 343


Age

: 19


Location

: Trying to get this site back up and rollin'!!!

Personal Stats
Forum Activity: Active
RP Activity: Active
RP- Experience : ★★★★★


Accepted, but I doubt this thread'll go much anywhere win the state the site's currently in.

CPT Revenge Unit #27

Old Timer




Join date

: 2013-01-21


Posts

: 381


Age

: 21


Location

: Mostly Omnipresent, more Omnipresent at dawn and dusk.




_________________
94% of Girls would cry if justin Bieber were about to jump off a skyscraper. 6% would push him off, the grab popcorn and a camera and shout, "DO A FLIP!!!" Put this in your siggie if you are part of that 6%.
When life gives you lemons, make lemonade, but unless life also gives you sugar, your lemonade is going to suck. So, if life gives you lemons, throw them at Justin Bieber and or One Direction.

Click this for an awesome party song!!! =D 


Brute

Old Timer




Join date

: 2013-05-03


Posts

: 343


Age

: 19


Location

: Trying to get this site back up and rollin'!!!

Personal Stats
Forum Activity: Active
RP Activity: Active
RP- Experience : ★★★★★


Shall I start the rp? (Or rather, try to start it...)

_________________
94% of Girls would cry if justin Bieber were about to jump off a skyscraper. 6% would push him off, the grab popcorn and a camera and shout, "DO A FLIP!!!" Put this in your siggie if you are part of that 6%.
When life gives you lemons, make lemonade, but unless life also gives you sugar, your lemonade is going to suck. So, if life gives you lemons, throw them at Justin Bieber and or One Direction.

Click this for an awesome party song!!! =D 


Brute

Old Timer




Join date

: 2013-05-03


Posts

: 343


Age

: 19


Location

: Trying to get this site back up and rollin'!!!

Personal Stats
Forum Activity: Active
RP Activity: Active
RP- Experience : ★★★★★


I wonder why my picture in the form post isn't showing... is it showing for you? :(

_________________
94% of Girls would cry if justin Bieber were about to jump off a skyscraper. 6% would push him off, the grab popcorn and a camera and shout, "DO A FLIP!!!" Put this in your siggie if you are part of that 6%.
When life gives you lemons, make lemonade, but unless life also gives you sugar, your lemonade is going to suck. So, if life gives you lemons, throw them at Justin Bieber and or One Direction.

Click this for an awesome party song!!! =D 


Brute

Old Timer




Join date

: 2013-05-03


Posts

: 343


Age

: 19


Location

: Trying to get this site back up and rollin'!!!

Personal Stats
Forum Activity: Active
RP Activity: Active
RP- Experience : ★★★★★



---
Permissions in this forum:
You
cannot
reply to topics in this forum